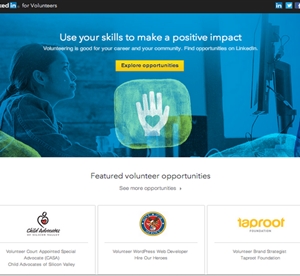 Redefining the professional definition of "opportunity". LinkedIn Volunteer Marketplace. News Alert.
Steve M., a young tech professional, lost his job when his company moved from Bay Area to a different state. He was hired there a couple of years back, right out of a prestigious college, thus he has never had to look for a job on his own. Now he was on a job market, looking for a job and learning what employers in Silicon Valley needed. He was surprised to find out that it wasn't only job skills and relevant experience that they were looking for. Most companies in Silicon Valley were looking for qualified candidates who were also involved in a community, in any capacity. Steve, an experienced UX designer had the time, energy and desire to help. He didn't know how his skills could be helpful and who would need his help.
How nonprofits and professionals can easily find each other
To his surprise, he found out that there is an easy way to find a way to help, Volunteer Market Place on LinkedIn. Tapping into what a company does the best, connecting talent with opportunity, LinkedIn just launched Volunteer Market Place. This platform is aimed to connect non-profits and professionals who don't know how easily find each other. Non-profits are looking for talent, with 92% of them looking for skilled volunteers to help them to achieve their missions, according to the study by Taproot foundation. At the same time, 82% of surveyed LinkedIn members want to volunteer their time and their skills.
Strategic partnerships to ensure success
With LinkedIn entering a volunteer marketplace, it is a win-win situation for both, nonprofits and professionals. Partnering with most trusted organizations in this place, such as Catchafire, NPower,VolunteerMatch, BoardSource and Taproot, will help the organization to see an impact in a very short time.
Now Steve is able to add the Volunteer and Causes section to his LinkedIn profile, listing the opportunities he is looking for. He was surprised to find out that there were many opportunities to use his skills to help, from individual projects to serving on a non-profit board. We are sure he will be able to find a way to make an impact in the lives of others, all while developing his own personal and professional skills and meeting many inspiring people in the process.
Publish date: May 24, 2014